Meet Ben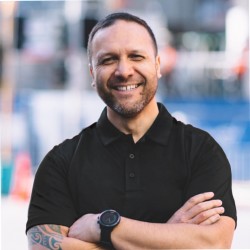 Ben Morunga-Toi, co-owner at Emendas, has more than 25 years of experience across the manufacturing, trades, civil construction, transport, and wholesale trade sectors. This has given him both breadth and depth of knowledge on best practice risk management and the application of controls in specific contexts. His expertise in technical support for risk management controls means that he is often on site and doing the practical mahi to get companies and their teams from "theoretical best practice" to "actual habits and practices". He generates buy-in and ensures implementation which is crucial for our clients seeking pre-qualification or accreditation.
Ben actively works in the area of psychosocial health, suicide prevention and workplace wellbeing. In his work he likes to interweave the principles of kaupapa Māori—and he also draws heavily on his background in sports which has proved to be an asset even in a corporate environment. His background equips him to provide advice and guidance that is relevant and targeted in a diverse Kiwi context, helping our NZ businesses to thrive and succeed.
Ben is our resident workplace wellness guru. For this, he draws on his experiences as an ex-premier rugby union player, ex-premier league player, and ex-competitive boxer. He is a certified Thump Boxing trainer and can provide community and corporate boxing classes which are a fantastic team-building and wellness tool for our client organisations. With his training in mental health and sports background, Ben can approach psychosocial health risks and their controls in a fun, lighthearted way that will draw in even the most disinterested of employees.
Behavioural assessments classify him as an Operator: co-operative, pragmatic, stable, and thorough. With his focus on team building and site-based delivery, Ben can be encountered anywhere from running a boxing session to attending site safety or toolbox meetings for our trades, construction, or manufacturing clients. Say "hi"—he's friendly.
"What an awesome experience for our team. Ben spoke about bi-culturalism, mental health, and identity. He was engaging, keen to know what we needed, and was so easy-going! Months after our kōrero, Ben still gets mentioned for his attitude and encouragement. We can all learn more about our identity and be curious about the identity of others – no matter what our skill level. Ben's expertise and unique mix of skills make him a practical and compelling consultant for just about any organisation. Tēnā koe, Ben!" – Thomas, Write