Meet Emma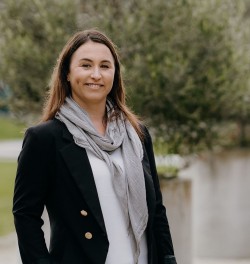 Emma Jeffery is the co-owner and founder of Emendas. She has witnessed firsthand the roadblocks that businesses face in regards to employee relations, human resource management, safety at work, quality assurance, and other governance concerns. With a wealth of experience working operationally in high-risk industries, she knows what works and what doesn't. And her philosophy is one that is at the core of what we do at Emendas: great business happens from the inside out.
Amongst Emma's qualifications are a Bachelor in Applied Science, Graduate Diploma in Occupational Health & Safety (Distinction) and an ISO Lead Auditor certification (ISO9001 Quality, 45001 Safety, 14001 Environmental, 45001 Safety).
She is a licensed Private Investigator, a chartered member of HRNZ, an NZISM Professional member and is CMC Global trained in ISO20700 (Management Consulting).
In the business and industry community, Emma sits as a council member for IMCNZ, a mentor with Business Mentors New Zealand, and is part of the branch committee of HRNZ South Auckland.
This list demonstrates her love for ongoing learning. With a broad base of knowledge and qualifications, Emma is able to put together bespoke solutions that draw on many different functional viewpoints and legislative perspectives. She does the heavy education lifting so her clients don't have to.
Coaching and developing other people is a passion for Emma, and you'll often catch her leading workshops and engaging with business leaders to guide them towards better processes. She's been referred to as the "facts department" to Ben's "feelings department"—but with a friendly and empathetic approach. Like Marie Kondo with homes, Emma helps businesses to sift through what's bringing them success and what's not. Because she loves celebrating others' wins, building up businesses is a mutually beneficial situation.
It's no surprise that Emma's behavioural profile is classified as a Strategist. The words used to describe this type of person are independent, organised, results-oriented, and decisive. She's all about no-nonsense methods that get results.
"We recently worked with Emma to complete profiles on all of our team, and found the process very simple and straightforward. The profiles that we received were really in depth, and provided us with excellent insights and some great strategic direction in terms of alignment of core skills vs company positions, and how to get the best from our teams. We would not hesitate to recommend Emma and the Emendas team." – Katie, Giftbox Boutique